Since late 2007, the Foundation has provided more than $1,000,000 in grants and donations for educational programs and initiatives throughout the district.
The Foundation seeks funding from corporations, public and private grants, and individuals who are interested in the education of Cherry Hill students. Some individual and corporate donors choose to contribute a set dollar amount while others choose to provide financial support directed towards a specific program or initiative. Donations are also accepted in honor or memory of an individual.
The Foundation also organizes a variety of fundraising events. We welcome volunteers who are willing to assist with these events and we are always seeking new sponsors. Contact us at info@cherryhilleducationfoundation.com
Thank you to the many businesses and organizations that supported the following Foundation fundraising events in 2014-2015:
CherryHill-opoly
Thank You to Our CherryHill-opoly Sponsors!
Alloy Silverstein
Aramark
Blossoms of Cherry Hill
Caffe Aldo Lamberti
Center for Living and Learning
Cherry Hill Dodge Chrysler Jeep Ram, Mall Chevrolet, Kia of Cherry Hill, and Cherry Hill Mitsubishi
Cherry Hill Health & Racquet Club
Cherry Hill Imports
Cherry Hill Mall – PREIT
Cherry Hill Pizza
Cherry's Ice Cream & Water Ice
Chick's Deli
Cooper Univers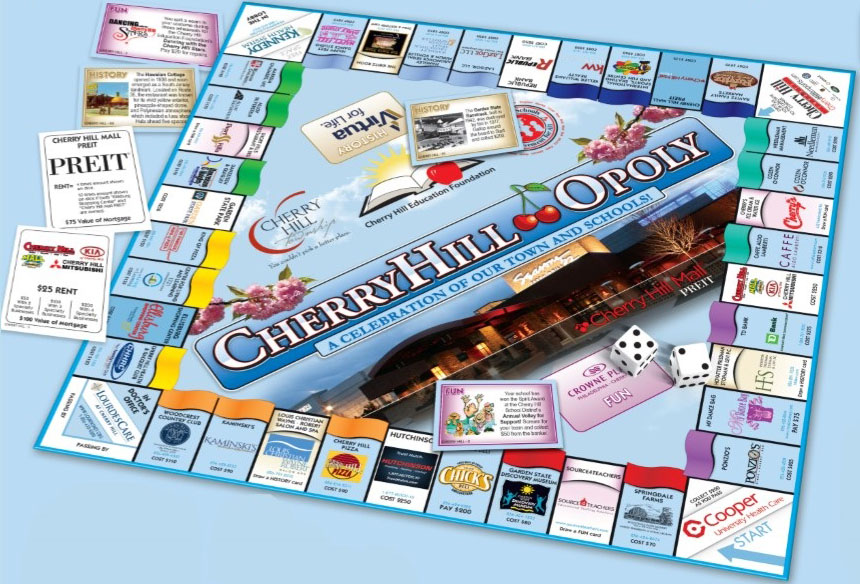 ity Health System
Cozen O'Connor
Crowne Plaza
Danzeisen & Quigley
Ellisburg Shopping Center
Erlton Bicycle Shop
FrontEnd Graphics
Garden State Discovery Museum
Garden State Park
Hangley Aronchick Segal Pudlin & Schiller
Happy Feet Dance Studio
Hovatter Friedman Stofman & Levi
Hutchinson
International Sports, Skating, and Fun Centre
Investors Bank
Kaminski's Bar and Grill
Keller Williams Realty
Kennedy Health System
King of Pizza
Lazgor, LLC
Louis Christian Wayne Robert Salon and Spa
Lourdes Health System
Markeim Chalmers, Inc.
Mercedes-Benz of Cherry Hill
My Dance Bag
Needleman Management
Ponzio's
Ravitz Family Markets
Republic Bank
Short Hills Restaurant & Deli
Source4Teachers
Springdale Farms
TD Bank
The Accessory Warehouse
The Kibitz Room
Virtua Health System
Woodcrest Country Club
2016 Golf Outing
Thank You to Our 2016 Golf Sponsors!
Tournament Sponsors
Aramark
Republic Bank
Source4Teachers
Dinner Sponsor
Conner Strong & Buckelew
Lunch Sponsors
Invo Healthcare Associates
Kennedy University Hospital
SAIF (School Alliance Insurance Fund)
YALE School
Beverage Cart Sponsor
Penn Medicine, Cherry Hill
Gold Sponsors
Becica Associates
Rothman Institute
Silver Sponsors
BAYADA Home Health Care
Cozen O'Connor
Delta Dental
Express Scripts
Good Shepherd Penn Partners
Liberty Bell Bank
Line Systems
Mayor Chuck Cahn
Wiss and Co.
2016 On Stage with the Cherry Hill Stars
Thank You to Our 2016 Dancing Sponsors!
Platinum Sponsor:
Rothman Institute
Diamond Sponsor:
Komfort and Kare
Gold Sponsors:
Adinolfi & Packman
Algorhythm Studio
Aramark Artists in Motion Dance Studio
Barry Caterers – E Lounge
Cherry Hill Association of School Administrators
Cherry Hill Mall
Cherry Hill Performing Arts Center
Courier Post
DeMarco Dance Center
Garden State Park – Park Lane, Park Place
iColor Studio
Kennedy University Hospital
Kenny's World
Ritz Theatre
Sapphire Salon & Spa
Short Hills Restaurant & Deli
Virtua
Y2 Academy
Silver Sponsors:
A Way of Life Therapeutic Massage
Cherry Hill Education Association
Elements Massage
Forman Mills
Lourdes Health System
Lucien's
Republic Bank
Source4Teachers
South Jersey Party Rentals
TD Bank
Bronze Sponsors:
Aloft Mt. Laurel
Becica Associates
Carleton Insurance Agency
Cherry Hill OB/GYN
Cooper University Health Care
Environmental Resolutions, Inc.
Law Offices of Eric A. Shore
Mayor Chuck and Stephanie Cahn
Met Life Penn Cardiology/Penn Presbyterian Medical Center
PSE&G
Taylor, Whalen & Hybbeneth
The Print Shop and More
University of Pennsylvania Health System
Other Sponsors
Thank you to the TD Charitable Foundation for their 2015-2016 grant funding in support of the Cherry School District's Mt. Misery program.