(Click HERE for a print version of this list of grants funded.)
Since late 2007, the Cherry Hill Education Foundation has provided more than $1,000,000 in grants and donations to the Cherry Hill Public Schools!
Alternative High School
A climbing wall in the gymnasium, funded with support from a WalMart grant.
Funding to pilot "Power to Teach, Power to Learn" Program.
Tuition certificate to allow a worthy student to attend SAT Prep Course
Food composter for AHS and Malberg.
High School East
Computers for journalism lab, funded with assistance from Gannett Foundation.
Smart Board technology in World Language Department, funded with support from WalMart and the Cherry Hill Breakfast Rotary Club.
Smart Response System for select science classes so teacher can immediately gauge student understanding of topic under discussion.
Resurfacing part of the tennis courts, through a grant from the Ravitz Family Foundation
ELMO projector.
Six snare drums for marching band drum line.
Using generational talent for Praxis in Media Center.
Concert Timpani Drum Set.
Poetry Residency and Poetry in the Schools Initiative.
Funding for PE equipment through a donation from Cherry Hill Health and Racquet Club
Funding for t-shirts and supplies for Red & White Night competition
Six mellophones for marching band.
Funding to support the Robotics program.
Funding for t-shirts for freshman orientation.
High School West
Training for National Honor Society students to become tutors for their peers.
Support for an initiative of the Shop West program in which students sell engraved towels.
With assistance from Barnes & Noble, support for in-depth study of human health disorders.
Adaptive physical education equipment for students facing physical challenges.
Funding for library books, with support from Barnes & Noble.
Support for publication of a photo- illustrated cookbook by food service students.
Contribution for Project Graduation.
Macbooks for the Broadcasting and Journalism classes, with assistance from the Gannett Foundation.
Intervention program to help non- readers, reluctant readers, and reading- deficient students improve their reading.
Magnetic skeleton and organ parts for Comparative Vertebrate Anatomy lab.
Dance education stereo system.
Equipment to promote "Imaginative Thinking."
New Literacies in Journalism.
Netbooks for learning beyond the classroom.
Upright Piano for vocal music room.
Equipment for weight room renovation.
Nooks (e readers) for the library.
Funding for equipment and supplies for PE Department through a donation from Cherry Hill Health and Racquet Club.
Support for West Mock Trial Team to enable participation in Empire Mock Trial Competition.
Funding for t-shirts for freshman orientation.
Funds for speakers to provide "turnkey" anti-bullying training for members of West's Athletes Against Bullying Club.
Funds to assist with first year of operation of West's Peer Leader Program.
Bottle Refilling Stations to quench thirst and reduce dependency on plastic water bottles.
High School East & West
The annual Academic Recognition Banquet, an event where the district formally recognizes the academic achievement of graduating seniors from both high schools.
Annual contribution for Project Graduation.
"Teen Screen" mental health checkups for students.
Hero Network Donation.
Beck
Partial funding for the Science Club's participation in the internationally recognized Science Olympiad.
Funding support for the Step Team to enable them to travel to a Step performance and perform in new shirts.
Supplies for the new ceramics program.
36 Kindles to support student literacy
Keyboard tech lab to enhance music instruction.
Cafeteria Baskets to Reduce Lunch Room Trash.
Funding for Sustainability Initiatives.
Chromebook Computers to Increase Student Engagement.
Carusi
Funding to enrich the Media Center's Year of Japan study.
A robotics engineering and technology program.
A music recording lab that focuses on music composition and digital recording.
State-of-the-art hardware and software for the Audio Visual Club.
New equipment to update the school's Fitness Center.
iPads and docking station to support English Language Learners and special education students.
Partial funding for Destination Imagination World Competition.
Baby grand piano for auditorium.
Improved theater lighting.
Additional equipment for the Fitness Center.
Cafeteria Baskets to Reduce Lunch Room Trash.
Baritone Saxophone for School Band.
Assistive Technology to Improve Reading Fluency.
Equipment for Career Skills Class.
Fitness Center Equipment to Promote Life-Long Health.
Tuba for School Band
Support for "A Day of Mary Poppins" allowing all Carusi students to attend the play at Cherry Hill West.
Robotics kits and supplies for 21st Century Skills Class and Robotics Club.
Tower Garden for science class.
Support for program to build confidence and leadership skill.
Euphonium and two tenor saxophones for Carusi band.
Rosa
Assistance for students who need additional social-cognitive support to better handle social situations within the community.
Music recording technology to enhance both individual and group performances.
Lego sets for a program that supports the development of student social skills.
Portable stage for performing arts program.
iPads/iPods for library.
Partial funding for Destination Imagination World Competition.
Adobe Flash for classroom use.
"Bridge" bus from East to Rosa.
Supplies to support a Ceramics Program in art classes.
Equipment to support student use of photographic evidence to enhance learning.
Cafeteria Baskets to Reduce Lunch Room Trash.
Projector for CAPSS Program.
SmartBoard for 6th Grade Classroom.
Equipment and supplies for PE Department through a donation from Cherry Hill Health and Racquet Club.
Gymnasium Sound System to enhance PE classes, annual drama production, and other events held in the Rosa gymnasium.
Eight Elementary Schools
Support to implement the "Battle of the Books" contest, a reading motivation program (which is already underway in four of our elementary schools), with book bags provided by Barnes & Noble.
All Elementary Schools
Support for a distance learning project that allows fifth grade TAG students to participate in a year-long study of the Renaissance at the Philadelphia Museum of Art.
Teaching Books data base for elementary libraries
In cooperation with the Cherry Hill Rotary Club, annual funding to provide personal copies of dictionaries to all third grade students.
Barton
Support for a program that improves early literacy development in first graders, with assistance from Barnes & Noble
Supplies for the second grade MathStart! Program.
Supplies to implement a new book series for the first grade literacy development program.
Registration fee to allow fifth grade team to compete at Destination ImagiNation global finals.
King School book series to support early literacy development in diverse student population.
Tumble Book Library for ELL students.
Funding for "Bucket Filling," a character education project.
Pedometers for Physical Education classes.
iPads for English Language Learners.
Non-fiction books for Grades 2-5.
Smart Board for Kindergarten Enrichment Program.
Drums for World Music Drumming Program.
Classroom document cameras.
High-interest text sets for Library (Grades 3-5).
SmartBoard for first grade classroom
SmartBoard for effective and targeted collaboration.
High-interest informational texts for 4th graders.
"We Are Words" hallway flags (character education initiative).
Scholastic non-fiction readers boxed sets.
Standing desks for 4th graders.
Native language literature for ELL students.
SmartBoards for various classrooms to support instruction and improve student performance.
Cooper
Funding for a fifth grade Energy Conservation program (monitoring and mentoring kits), which allows fifth grade students to teach conservation to all younger students at Cooper.
Five Notebook computers for a Grade 3 inclusion class.
In partnership with Cooper PTA, Dell computers for student use.
National Geographic Science & Reading program.
iPads and cases to support learning in self-contained Special Education classrooms.
Bright Link Projector to support technology integration with the Resource Room.
Resources for social skills and problem solving.
Harte
In partnership with Harte PTA, funding for a climbing wall where students learn teamwork skills while enjoying physical education.
Partial funding to mount an existing Smart Board in the library.
Current reading selections for a library book club.
A Smart Board and computer to assist students with speech difficulties.
Flip video camera to support world language learning.
Composter for Green Team.
Piggie Party literacy initiative.
Replacement copies of best-loved library books.
"Flipping through Flipster" – emagazines to promote reading and school and home.
Support for Bret Harte's BES School Store project.
5th Grade iPad Learning Lab
Sensory motor equipment for Occupational Therapy to improve student learning.
Interactive books for the school library to "light up learning."
Johnson, Sharp and Stockton
Laptop, peripherals, and software to enhance instrumental music lessons for fourth and fifth graders.
Johnson
Funding for classroom amplification system to increase student academic achievement and performance.
Support for "Lego Lunchtime Club," a program that helps students improve social competence and increase interaction with peers.
Student mentoring program (East students at Johnson).
Pedometers for Physical Education classes.
JJ's Ambassadors for Animals.
Book Buddy books and games to allow 4th graders to help 1st graders.
Character Education program -Random Acts of Kindness.
Drums for World Music Drumming Program.
Social Learning Skills Resources for Asperger's and Communication Impaired Students.
Classical Music CDs to Reduce Student Anxiety.
Library Books with African American Main Characters and/or Authors.
Music technology for large-group instruction.
Elmo document camera and ceiling projector.
Tower garden for second grade science and Johnson Green Team.
Kilmer
Nonfiction books for the library and first grade classrooms, with funding support from the Garden State Rotary Club.
A text mastery program for third and fourth grade classrooms.
A document camera and projector to support instruction in fundamentals of writing.
Book series targeted for boys to help close the reading gap.
iPad Minis for Special Education/At Risk students.
Elmo document cameras and projectors.
Library books to enhance cultural proficiency.
Funding to transport students to HS East to see Peter Pan.
Laptops for Special Education Students.
Document cameras and projectors for third grade classroom.
Document cameras and projectors for all first grade classrooms.
Laptops for Special Education classrooms.
Therapy balls to improve attention, increase on-task behaviors, and decrease disruptions.
Funds to support "Project Success," an after-school mentoring program with students from East and West.
Chromebooks to better prepare students for PARCC.
Chromebooks for second graders.
Bully-busting books to help students develop skills to avoid bullies and bullying.
Five All-in-One Printers to support Special Education and Basic Skills instruction.
All-in-One printers for 1st grade classroom.
Funding for Bucket Fillers character education program.
SmartBoard for second grade classroom to improve student performance.
Kingston
In partnership with Kingston PTA, support for "Lunch and Learn" program, which helps eliminate bullying on the playground.
Support for a teacher in-service designed to improve the reading skills of first graders.
Audio books for the library to augment differentiated instruction.
Equipment to assist first and second graders in improving their reading fluency.
Listening Center books and CDs for use in first and second grade literacy centers.
iPads for special education classes.
Chick hatching project for first grade classroom.
Funds to create a "Little Free Library" at Kingston.
Desk cycles to enhance kinesthetic learning.
Furniture for the Library Media Center.
Knight
In partnership with Knight PTA, support for teacher-implemented, cutting-edge "Universal Design" technology to benefit first and second graders.
Portable nets to enhance the elementary school physical education program.
Books targeted to increase literacy among boys.
Updated library selections in fiction and history for third, fourth and fifth grade students,
Funding to enhance the music curriculum by providing 25 drums for a world drumming program.
Open mic equipment for poetry reading.
Smart Board for Library/Media Center.
iPad2s to support learning in the Communications-Impaired classroom.
Buddy benches to foster friendship and help prevent bullying.
Supplies for Bucket Fillers (character education) program.
Chromebooks to support online development of writing, math, and reading comprehension skills.
Furniture for the Library/Media Center.
Mann
In partnership with Mann PTA, partial funding for new playground equipment.
Bucket Fillers for students—a character education program.
With support from Subaru of America, Inc., SmartBoards and accessories for two fourth grade classrooms.
Pedometers for Physical Education classes.
Piggie Party literacy initiative.
Interactive whiteboards for Autism Support class.
"Flipping through Flipster" – emagazines to promote reading and school and home.
Interactive books for the school library to "light up learning."
Books to aid in teaching social skills and problem solving.
Paine
Funding to construct a greenhouse which will allow students to learn ecology, environment, and marketing skills.
Support for a week-long poet-in-residence program.
Shakespeare program for second grade students.
Student-constructed "Peace" mosaic mural.
Materials for "Scientific Minds" program in first grade.
Reading incentive rewards.
iPad Minis for ESL Students.
iPads for economically disadvantaged students.
Class trip for students in remedial program.
SmartBoard for second grade classroom to improve student performance.
Reusable plastic baskets for sustainable lunchroom initiative.
Chromebooks to help students and teachers develop their digital skill sets using Google Education Suite.
SmartBoards for first and third grade classrooms to improve student performance.
SmartBoard to improve student performance of English Language Learners in Grades K-5.
Sharp
BookFlix, an online database, to augment reading selections in fiction and nonfiction for students in grades K-3.
Installation of a Smart Board in the library.
A Thinking Fun Center to challenge fourth graders to think at the highest levels of Bloom's Taxonomy.
Document camera and projector to support literacy development in Grades K-5.
Hand-held video cameras for classroom use.
Readers theater kits for first grade students.
With support of Sharp PTA, funding for iPads for use by students at every grade level.
Document camera and projector.
Books for "Battle of the Books" program.
Library books to support literacy for English Language Learners and all students.
High-interest texts to teach Science.
Chromebooks to support first-grade small group intervention and enrichment.
High-interest texts to support Social Studies and ELA instruction.
Instructional SmartBoard for third grade classroom.
Stockton
In partnership with Stockton PTA, partial funding for Peaceful Playground equipment to provide structured, bullying-free activities at recess.
iPads and software to incorporate Science, Technology, Engineering and Mathematics into music instruction.
Woodcrest
A Hero Wall dedicated to people who overcame disabilities to follow their dreams.
Books to enhance studies in African American history and the Read Across America celebration.
SmartBoard and peripherals for second grade classroom.
Series of books about U.S. Presidents for Extended Day Childcare program.
With Woodcrest PTA, funding to support the Trouble-Free Playground program.
SmartBoard for 2nd Grade classroom.
Graphic novel collection to engage reluctant readers.
Interactive books for the school library to "light up" learning.
Barclay Early Learning Center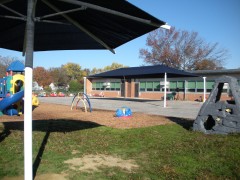 Printers to assist in preschool instruction
Funded by a grant from the American Academy of Dermatology, a shade structure to allow use of the outdoor playground in sunny and rainy weather.
Funding to obtain additional supplies for the shade structure.
Poster maker.
"Minis for Minis" – iPad minis for each Barclay classroom.
All Secondary Schools
A Sustainable Cherry Hill recycling and compost project, with funding support from Aramark.
Funded by Texas Instruments, donation of 14 TI-NSpire Teacher Edition Graphing Calculators to improve mathematics instruction.
Districtwide
Books for students who are English Language Learners to own and read at home, with funding support from Barnes & Noble.
Annual support for the district's Mt. Misery Program, through a grant from TD Charitable Foundation.
Used printers for schools.
Training to support district's Cultural Competency Initiative.
T-shirts for annual STAR Games.
Funding for refurbishment of donated musical instruments.
Funding for refreshments for District PARCC Community Nights.
High-resolution cameras for schools and district Public Information Office.